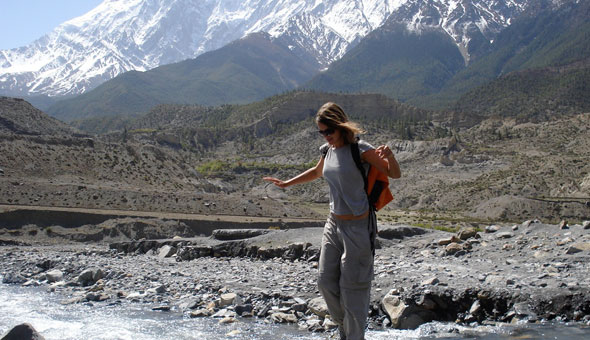 Inspirational Charity Treks
The Himalayan Mountains are a unique and awesome adventure. However, not everyone has the same taste or desire of adventure. Therefore we have created different options to explore Nepal's great diversity. Discover the fascinating mountain challenge as well as Nepal's breathtaking countryside, tradition, culture and heart-warming people.
Each option can be combined with visiting a range of Charity projects either before or after the adventure, depending on your travel plans. All tours are organized in conjunction with Travel De Society & Visit Nepal-Tibet Travel & Tours our Nepali travel experts.
Adventurous Mountain Trekking Tour
Discover the awesome and fascinating nature while you explore the most remote areas at the "Top of the World". This option is for true adventurers who consider themselves fit and healthy to ascend high altitudes. All our treks are carefully researched and lead by experienced Nepali guides who know the mountains and the risks of altitude. They can be designed for both individuals and groups suitable to your level of fitness.
Individual organized Tour
For those of you who truly wish to be independent and create your own adventure – we can offer our experience, support and contacts that you may need to make your own plans. We can also offer advice on the practical and safety aspects of the Mountains to fully appreciate your trip to one of the last *true* frontiers of Nature.
Village Tour
This is a unique opportunity to experience directly the Nepali life and culture in the lower slopes of the Himalayas. The Village tour is designed for those who wish for an adventure in the mountains, yet a less strenuous experience. It is equivalent to mountain trekking in European or American mountains. In most villages guesthouse or lodge accommodation is available, however you can also choose for the full experience a "Village Home Stay" where you will stay in a traditional family home, with a Nepali family.
This unique experience will open your eyes to an ancient tradition of living. Waking up to the early morning, sipping tea before the family begins its daily tasks. Take a turn in ploughing the field or husking rice. Learn about the simplicity of village life and taste the delights of food grown naturally and cooked before you.
Meditation and Mountain Trekking Tour
Embrace your solitude in meditation and experience the magic of a mountain experience. With this option we offer the stay in a secluded guesthouse nestled in the mountains where you can pursue your own meditative practice while enjoying the deep mystery and peace of the Himalayan Mountains.
If you wish you can choose more than one location so that you can fully appreciate the magnitude of the Himalayan range. We can also arrange for you to visit various monasteries and temples – depending on the availability at the time we can also offer meditation retreats and teachings with respected masters.
For more information on our tours contact us