Imagine a living experience where everywhere you look; travel, work, family, play - there is a hand reaching out to give to you, to be a support, to share with, to join together with. Imagine the synergy of economics, politics, family, society - where we work hand with hand, supporting, being with, sensitive to the humanity and the higher potential of the person, the situation - the moment.
This is our Vision. We believe this is Possible.
Can you recall the last time you 'gave' of yourself? With your time, energy, resources, or finances? What did you feel, experience or gain from that giving? It may have been a learning experience, a heart-warming experience, or perhaps an insight about yourself or another - but without any doubt, you will have gained something. Giving = Receiving. Two-way collaboration in which we all contribute and we all gain naturally creates healthy synergy.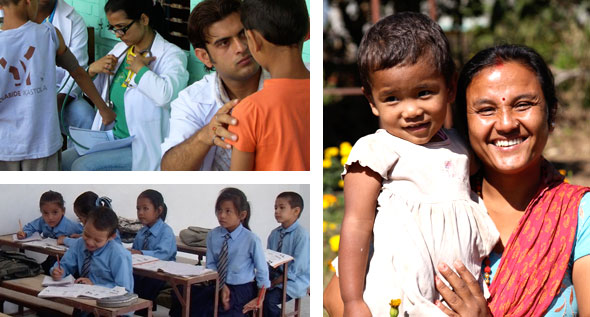 Our objectives:
To support, encourage and educate individuals and organisations that then, in turn, create, initiate and put into action projects that help others.
To initiate, promote and help fund projects that support empowerment and include the human elements (e.g. when we work with an indigenous community, rather than imposing an ideal, we develop together a solution, being sensitive to cultural issues and encouraging eco-friendly and sustainable options).
To create opportunities where people can volunteer and learn, and facilitate supportive communication (e.g. inspiring talks, discussion forums and work groups) to encourage you to find your own way of contributing to others' hands in need.
Volunteer opportunities (Currently not possible due to the Earthquake crisis)
HwH is not only about monetary contributions, although money is indeed helpful to facilitate various projects and programmes. Our main intent is to support and encourage each person to realise that they have the capacity within themselves to contribute, to give of themselves to their community and the whole world in which we live. Therefore we developed a transparent volunteer programme operating in Nepal.
There is comprehensive information on this website and a private chat can be arranged with CoenVölker our (volunteer!) Volunteer coordinator, to discuss your personal situation before you leave for Nepal. Basically, we connect you with one or several projects and explain to you the costs involved and where your donations will be used. Volunteers in the past have both contributed and received in children homes, village schools, medical health camps and environmental projects.