Our current Activities in Earthquake Response/Relief
A really big Thank You – Dhanyabad – Dankeschön – to all of you! It has been with your generous donations that we swiftly coordinated with our Nepali friends emergency relief responses after the earthquake, and consistently in the months since.
With your help we have provided a range of emergency support immediately post-earthquake:
* Emergency food and safe water sources
* Temporary shelter/toilets
* Medical supplies to support a health camp in Sindhulpalchok since the day after the earthquake and ongoing till now
* Care packages for mothers and young children, including food supplements
* Provision of solar technology to support emergency communications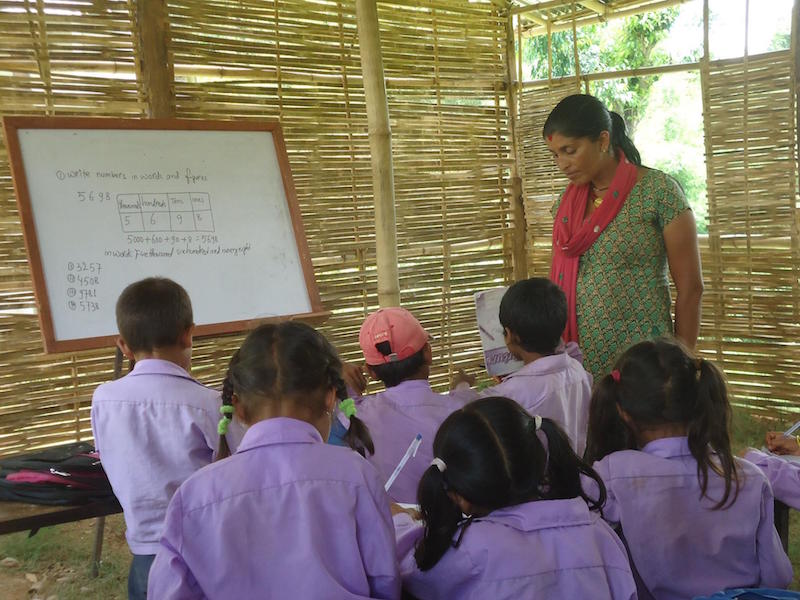 * Help in building temporary schools to facilitate ongoing education
* Purchase and distribution of education materials, including essential textbooks destroyed in the earthquake
* Creation of a temporary student hostel as a safe home for children to continue attending school
It has been incredibly heart warming to get the news reports back from our friends in the field and to see the smiles and gratitude of the recipients.
Details of our support can be found on our news page: "news update" page.
Our ongoing activities in Earthquake Response/Relief:
1. Continued collaboration with our Nepali friends/teams to maintain emergency relief as required.
2. We are providing ongoing extra support for our Bhaktapur Children Home in Sipadol as we undertake major restructure repairs to our damaged buildings. The rebuilding with experienced engineers will begin in October and will take 6-7 months to be completed.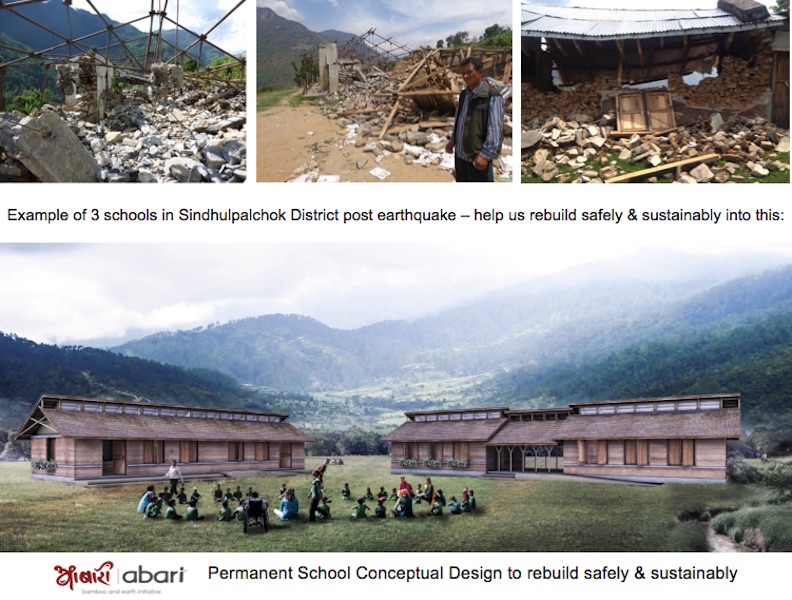 3. Together with TEAM Nepal NGO (Neel & Bikash Shahi) and local Nepali eco-building company Abari (www.abari.org) we are supporting general rebuilding initiatives in the most affected of communities. Additionally Abari will oversee the safe eco-construction of permanent new schools/homes in our sustainable/whole village approach - see below for full details.
4. In our microcredit project in Chitwan district we are already working with the most needful communities. This support includes; the repair/rebuilding of homes and expansion of our current training/development programs in order to establish a small agricultural business that will sustain and support families into the future with secure food supplies.
5. In conjunction with Sibjan Chaulagain's SMILES NGO team we continue, in the Sindhuli district, support for emergency relief and sanitation/water projects for the rural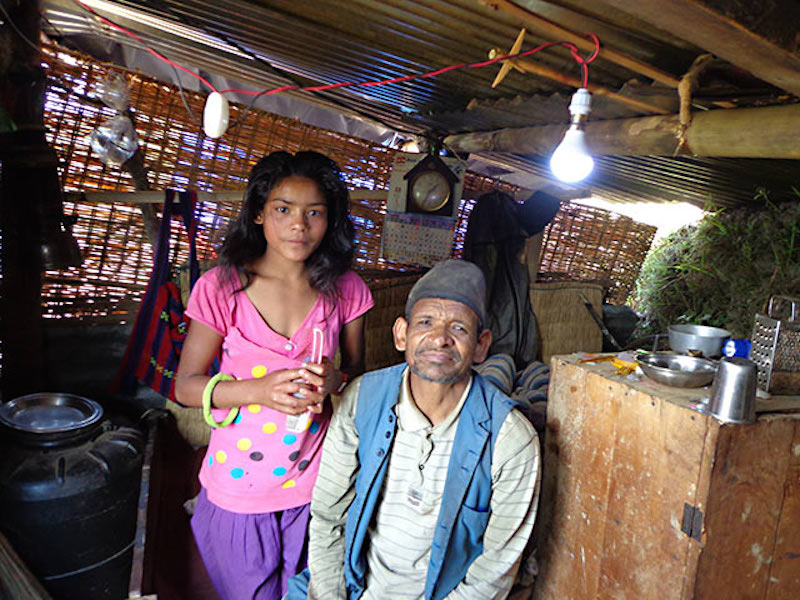 communities, plus expansion of ICT for agriculture development. We will also be supporting with the provision of organic seed stock to replenish that which was lost during the earthquake.
6. In conjunction with Nepal solar company "Surya Power Eco Solution Pvt. Ltd." we are supplying and installing to rural areas most affected by earthquake, basic solar systems to provide essential lighting and facilitate charging of communication devices.
*** additional supporting projects are under discussion and will be added when confirmed ***
Details of our Rebuilding Schools/Homes
with Abari (pt 3 expanded) - next steps:
Education and training: in conjunction with local communities, our local Nepali NGOs, and sustainable construction company Abari, we will be implementing community-driven rebuilding, initially focusing on the destroyed school in the selected village(s). By using the advanced skills and technology of the Abari team we will provide the villagers with training in basic construction skills such as masonry, carpentry, plumbing and electric. The focus is on sustainable and government approved earthquake-resistant techniques/designs that incorporate traditional styles and knowledge.
Provision of tool libraies and workshop spaces: This allows for safe buildings to be rebuilt locally, in a scale and at a pace that individuals can meet. We aim to provide additional training in building and craftsmanship – for example furniture making and building of tourism homestays – this can enhance the economic potential of the villagers.Additionally these workshop spaces can become integrated parts of the schools offering longterm vocational training.
Improve Community Forests: with local communities we aim to ensure sustainable building-specific trees/bamboo are planted. This will also help to reduce landslides and soil erosion, plus provide healthy carbon retainment, all of which can potentially improve economic potential and further ecological consciousness.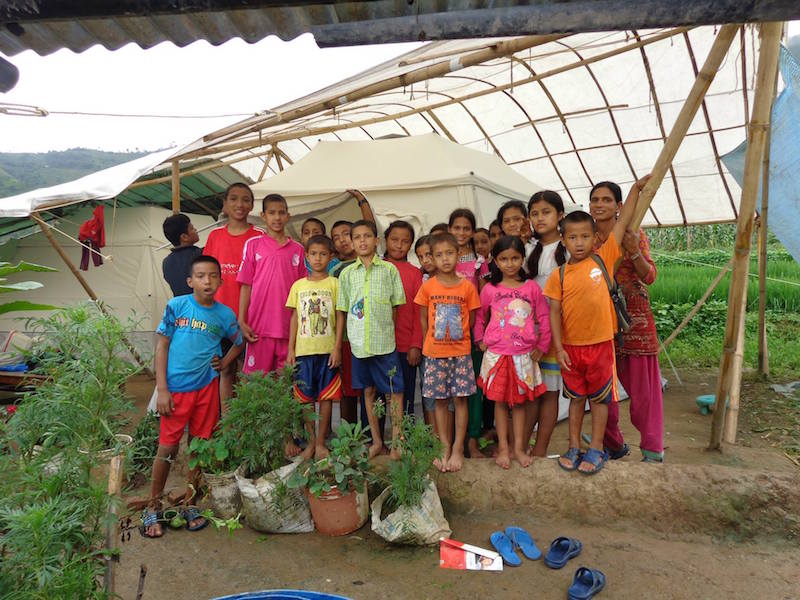 Reduce donor dependency: Historically (Haiti, Tsunami Sumatra, Hurricane Katrina), we've seen that the time after disaster can lead to high dependency on donor funds (INGO/Government) for basic survival, which in turn can lead to dysfunctional economy and splintering of communities. We trust that our initiatives will alleviate these issues and help towards healthy, self-sufficient communities with safe building into the future, and economic and agricultural add-ons that further contribute to sustainability.
Contributing to the development of resilient communities; supporting safe and healthy structures for education to continue; helping local economies revitalize and develop capacity and sustainability into the future – these are key outcomes we hope to achieve in our efforts.
Hands-with-Hands and Abari's first collaborative initiative jointly with Sathsathai Mundi Foundation will begin in October/November 2015 in the village of Timal, district Kavre. Our next location in Sindulpalchock is in discussions and we hope to have that next initiative underway in December/January and further schools into 2016.
We will need your help to finance this initiative, to provide the tools, technical developments, expertise and labour to achieve these goals. Thank you for donating and helping us help rebuild schools safely in Nepal!
Once again a huge heartfelt thank you to all donors for helping us help in Nepal! Additionally, your support gives renewed energy to our many Nepali friends working in the field and inspires them to continue helping others.