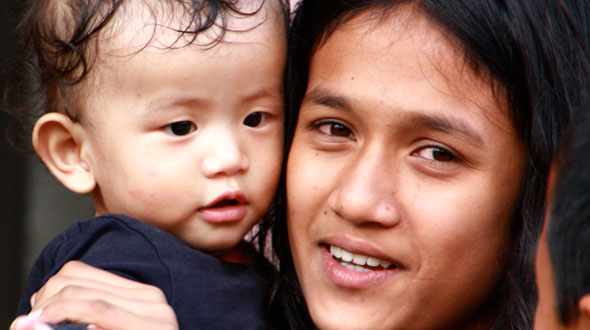 Children News Update Annapurna March 2012
I write this sitting up in the volunteer room, taking a few minutes break while the children are about playing in various ways. School holidays have started, exams finished two days before and the next three weeks is play-time! The next school year starts April 22nd. The children are all doing really well at school, our after-school tutoring has continued to make a real difference in both their enjoyment of learning and their results. I thought you might enjoy having a small snap-shot from my point of view the developments and changes in each of the children...
Sonam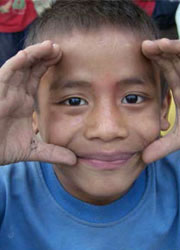 Sonam is still as cheeky as ever! Around the home is one of the most creative children in finding and making playthings from whatever is lying about _ and then teaching the other children how to do the same. He is doing well in his school studies, entering into class 3 this year. And for those who have met Sonam, finally his nose stop has stopped running! He also is number one tree climber, gathering fruit from the trees whenever he can.
Shuvas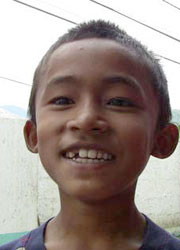 Shuvas has really settled in to being a part of the home now, and has made closer friends with Rabi and Sagar. Their current most fun playtime is with marbles, endlessly creative with their games and competitions with one another. Shuvas also liked to show me can use his twin sister_s (Sharmila) skipping rope as well as she, but he will need more practice to be as skillful as she is! He has also really improved in his school studies too, this year he enters class 3. Another nice change is he is smiling almost all the time now, in contrast to the frowns he had when he first arrived.
Sharmila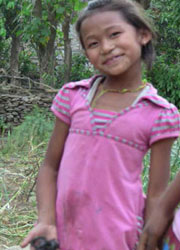 Sharmila is a really delightful, sweet and funny young girl. She is bright and quick of both mind and wit. She is quick to initiate games, both active games and board games. She is close friends with all the girls, and is caring towards the smaller ones, helping the learn skipping, to dress for school etc. She has also become much healthier and stronger. This year she enters class 3.
Sristi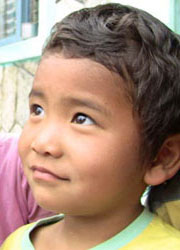 Sristis is a delight, gentle by nature, yet also becoming a strong personality as she grows. She is funny and creative and with so many older brothers and sisters quite at home finding her way and asking for what she wants and needs. My heart always opens wide when she comes running up for a hug and cuddle! She is in Nursery class this year.
Sofal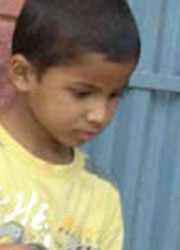 I nick-named Sofal a long-time ago as the cheeky monkey! And he clearly still lives up to this name! However he is also first in his class and his writing and numbers is extraordinary for his age. He is strong willed and makes his own way in the home environment, and at school. However, his intelligence and cheekiness is valued and appreciated by everyone, and he most often has everyone both laughing and doing what he wants. He begins this year in class what is the last year of pre-school.
Santa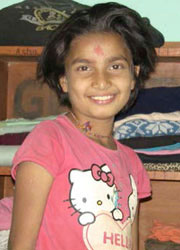 Santa continues to blossom as a young girl, steadily doing really well in her classes and always responsible and caring about the home. She is laughing more these days and she, Sharmila, Anjali and Sunita frequently play together and develop new skipping games. This year Santa moves into class four, after completing the last year second in her whole year, only beaten by Sagar!
Sunita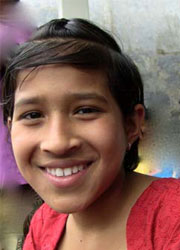 Sunita is a gentle and caring young girl, taking more care and responsibilities as she is getting older. She has become more loving and caring towards the other children and very much improved in her studies, this year moving into class four. Her singing and dancing has also developed, with her enthusiasm and creativity.
Rabi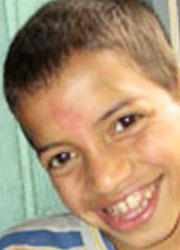 Rabi is a lovely boy who continues to find his laughter and playfulness, so different from the scared young boy who would not speak when he first arrived. He is caring towards the younger boys and including them in play and helping them dress. He is doing very well at school,finishing this year fourth in his class and this next year moving into class four.
Srijana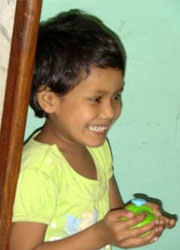 Srijanna has grown so much in the past year, both in height and in her personality and capabilities. She finished nursery and moves into pre-school. She is much more confident and outgoing, also joining now with the older children for playing games.
Sushila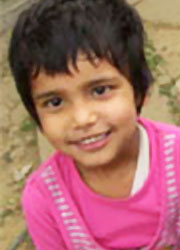 Sushila has also grown a lot, but still retains her tomb-boy monkey nature, climbing up on everything possible. Her curiosity making sure she looks into everything and asks questions, yet is so sweet and lovely too. She has finished the nursery classes and now starts the pre-school this next year.
Sagar (Older)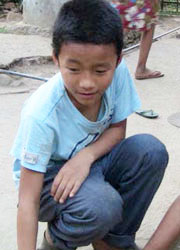 Sagar is currently the _marbles master_ in the playground! He also has finished this last school year at the top of his class and Sarada took him the best school in Pokhara for admissions exam and he did so well he even gets a partial scholarship. The current headmaster recommended Sagar as he has done so well at this local school. Now entering upper primary at this top school his options as he grow older will increase. We are all really happy and excited for his next step this year in the new school, class four.
Sagar (Younger)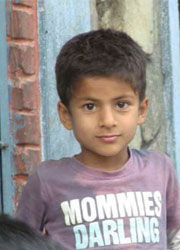 Certainly still some cheeky monkey energy, yet Sagar has also become much more gentle and integrated with the other boys, playing often now with Rabi and Sagar (older) Shuvas and Bushan. He also has improved a lot with his studies, and even enjoys doing his afterschool homework! Class one.
Pritam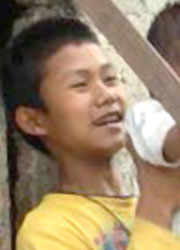 Pritam has grown in height and statue the last months, moving truly into adolecence. However his nature is more gentle and caring and responsible. He has completed his studies well this year, and also has been successful in his martial arts study, winning a competition earlier this year. This year he enters lass 5. He also continues to be a very good artist.
Asha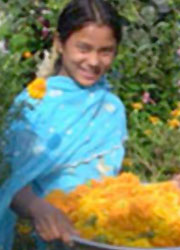 Asha continues to blossom and develop as a beautiful young woman. She is a great help to the mothers and a gentle caring support to all the children. Yet she is also quick to laughter and playfulness too! She has done really well in her studies, finishing near the top of her class,and this year moves into class eight.
Sabin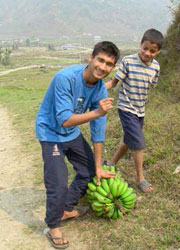 Sabin has a grown a few inches I think the past months! His gentle nature and practical view means he is often doing much to help about the home _ just now he was helping carry several kilos worth of bananas back from the new land. When Sabin arrived at the home he had had so little schooling he was not passing well, yet his dedication to learning and taking full advantage of our after school tutor, this year he excelled and passed. And his enthusiasm for study has really increased too. This next year he is going class eight.
Rabina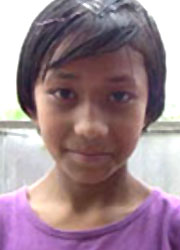 Rabina has a new hairstyle (from Saraswati) and is looking even more beautiful! She has improved in her studies, although her English is still poor, but Sunita (her best friend) is giving her extra coaching and we are encouraging her to talk more to the volunteers in English to help too. This year she enters in class four.
Sawaswati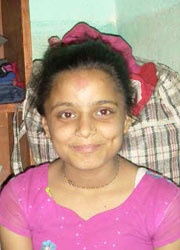 Sawaswati has passed through that uncomfortable adolescence mood phase and is now such a delightful young woman, sharing her _beautician_creativity giving nearly all the girls a new hairstyle! She is much more relaxed and is also taking much care of our youngest child Saraha, sitting with her at meals and feeling her, picking her up and cuddling and loving her. She is also doing much better in her classes, and this year moves into class six.
Muna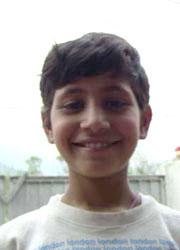 Muna continues to integrate and play and be a part of the family. Her motivation in school has improved and her general behavior much more relaxed. It can be possible now to have short real conversations with her without her aggression or acting out, and to see the potential of who she can become in a positive way. She is intelligent and a good sense of humour and will the love of Sarada and the other mothers and children this young girl is really healing and changing. This year she enters class four.
Anjali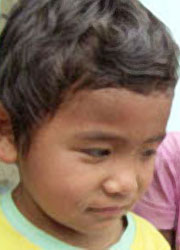 Anjali also has lovely new hairstyle from Saraswati, and is much more feminine and less tomb-boy these days! Anjali continues to excel in dancing and singing. She has also done very well in her studies, finishing near the top of the class, and this next year starting in class four.
Sushil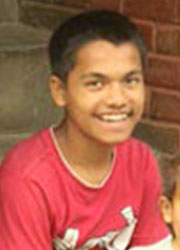 Sushil has continued to settle in to our home and also to take on much more responsibility about the home, which is very welcomed by the mothers as he is good at fixing things and also has a great talent for getting the honey from the bee hives! He also is a caring and loving support with Saraha, out littlest, often carrying her and playing with her for hours. He participated well in his studies this past year after repeating class seven, and now moves into class eight.
Bushan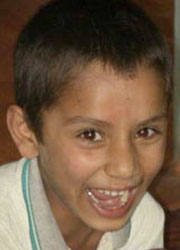 Bushan has grown at least an inch this past few months! He is much more integrated with the other children and is less panicked by his survival topic. It is lovely to see him laughing and playing, even if he is still cautious and careful sometimes. He is doing really well at school and this next year moves into class three.
Ujjwal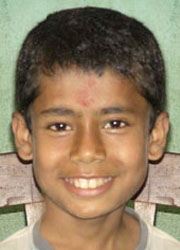 Ujiwal has settled in much more, making friends with the other boys. He is still a bit shy, yet when he smiles it is like a light shining so brightly. He is a sensitive and intelligent boy and is very good with his studies, this next year moving into class four. He is very observant and quick minded, using this skill in a helpful way about the home.
Sahara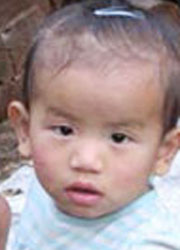 Sahara, our youngest child at 14 months, has starting walking now and developing her curiosity. With so many older brothers and sisters she has many choices of caring support! She continues to be a very easy child, hardly crying at all and easy to be with, sleeping through the night _ which is very welcomed by everyone!