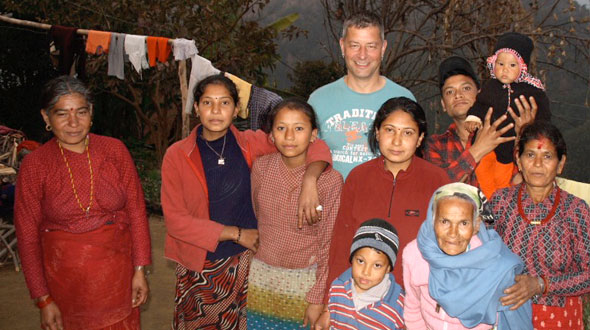 Thomas Fecker, 47, Hamburg, Germany
When I made my decison to have a three month journey to nepal for volunteering I've had no idea what will come up.
I was never interested in Nepal, Himal or trekking but time was right for doing some usefull things and KirasOrphean houses sound like this.
After talking with Kira we agreed that I splitt my time three weeks for aschoolproject and three weeks for an orphan house. I've got a recommended hotel, contactperson incl. phonenumberand took my flight to nepal. I was very happy to be picked up at the airport because Kathmandu is "a lot". During the first days Guru, the volunteercoordinator, was very helpfull to get used to Nepal. He teached me nepali, take me around and explained the historical, religious and cultural backround. It was really interesting.
After one week we meet Neal, the Schoolprojektleader and his sun Suradj (18 years) and spoke about my assignment. Next day we all take two motorbikes and have a good ride to Talamarang - The location of the schoolprojekt in Helambu. And there the nepali way of life was looking foreward to me.
Nobody has a proper idea what to do with me - but finally everything wents fine.
Next day when Neal went back to Kathmandu we started to measure the whole aera and made up a plan - do I've mentioned that I'm a german guy?
And together with the historical backround and their future plans it becomes a kind of projektreport. The people of this community have done a really great job and can be proud of what they have build on almost without any help from the gouvernment. A school for 500 students from class 1 to 10 incl. examination. The schoolways the students accept just for getting teached are absolutly incredible.
Up to 2 hours walk downhill in the morning and back when school is over.
But to teach was a very special experiance for me.
One day the principal requested me to take over class 6 because they have a free period. Next day he invited me to take over class 4 and because they have free period also he put in class 5. Both with 30 students and less english knowledge.
In summary the range of experience was from an alarming lack of vocabulary to having a lots of fun and laughter.
Laughter because of my nepali and the competitions games Suradj bring up.
Without his help and ideas I'll have been completely lost in this situation.
The place where I lived during this time was a little room in the house of neals brother. A farmer mud hut about 20 minutes uphill.
This family would have been a really good reason to stay longer and longer. The wellcome me with open hearts and loveable curiosity.
We have had breakfast with Himalview, in the afternoon playing volleyball with the neighborhood children and in the evening we have nepalifood on the floor with a lot of laughter. They are amazing friendly, playfully and they never complain about anything. I noticed this the first time when I went back to Germany
Then after 10 days school holidays are starting so we went back to Kathmandu on the roof of the bus.
This is always a bit scary and allways fun
During the next days I finished the report and based on the discussions I've had with Neal we are now developing a new school project. This is starting right now and based on this I decided not to go to an orphan house.
Eventually I went trekking - for the first time in my life. I've selected the AnapurnaBaseCamp (ABC) - without porter or guide. But a little first-hand hint - don't do it alone. The trail was big, my map has been good and the countryside incredible and I really enjoyed my walk the first two days. On the third day on 3000 highmeter I was trapped for a little while in a kind of avalanche. And on 2 pm I have been the last trekker for the day.
On the last day on a good and easy rockstaircase I twisted my leg and it cracked. I have had good luck that there was a guide from another group that found me. Finaly six porter carry me three hours to Birethanti - this was a lesson in trust
Needless to say thats I can tell a good story - but if this has happend in the avalanche I won't. (A good tip - when in himalayas, have a guide as friend and compnaion!)
Altogehter Nepal has been a really helpfull experience for me and I'll be back.
With guide and more nepaliknowlege